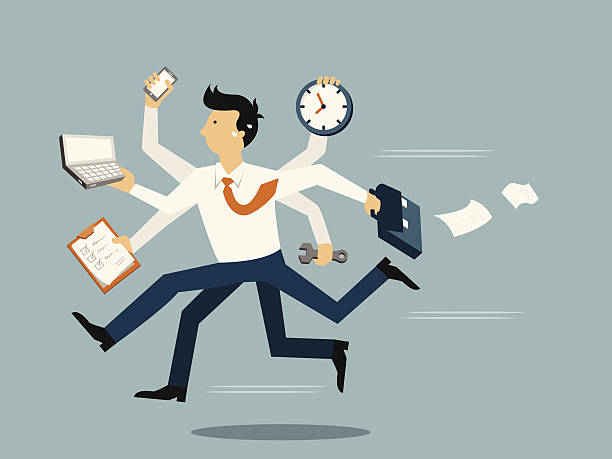 Is being busy the new religion of the modern age I wonder. We are moving so fast now – faster than ever before. There is so much to do! But what should our priorities be as Christian leaders – not doing, but rather thinking, dreaming, praying, listening, resting, planning.
We need to ensure that as leaders we are not moving so faster and doing so much that we miss out on dreaming big dreams, we miss out on fellowshipping with the Lord and walking with Him.
Right now we are going through a huge experiment as the human race. Never before have we been so connected – online – and that competes with our prayer life and our dreaming times. We rarely take the time to think about a situation from more than one angle!
Now one of the reasons we are so busy as Christian leaders is that we have good hearts – we want to help people, we want to be there for the people who need us, we want to go above and beyond people's expectations. And then there is the bad example of lazy leaders which go to unfruitfulness.
However, being over-busy is just as bad as being under-busy! Sometimes we can do so much we never press pause and think – is this the best way to do this, is this the best way to achieve this, what will the future be like, does God want me to do this? THE BIG QUESTIONS are being pushed out because we are too busy to think and dream! That is a huge mistake many leaders make. They can be brilliant at the day to day, but to lead you need to have a dream of a better future. Nothing is more important to a leader than a dream of a better future. Nothing.
The problem is that a lot of Christian leaders were appointed to lead because they made good Marthas – they got the house tidy, they got the dinner ready, they got the Bible study notes photocopied (or uploaded and shared now), they got the job done. And the Martha inside us can be a bit noisy when we say – right now the most important thing is sitting at the feet of Jesus. As we sit at His feet, we start to think of all the things that must be done – that we must do. The reason we do not stay in His presence long enough to be transformed, to be inspired, to be directed and led from Heaven is not because we are too busy and that is just how it is – it is because deep down we do not prioritize this.
We think not doing the urgent and immediate will hurt others. No – not spending enough time with the Lord, enough time dreaming, enough time planning and developing strategies – will be what hurts others. Get this right in your mind. If you do not have a dream of a better future, your people will pick up on it and immediately being around you will demoralize them, not inspire them. Because you did not take the time to dream. You will not encourage others to set goals and dream, because you do not dream. This is vital we take the time to dream. Ultimately people will lose respect in your leadership if you do not have a dream.
You have to learn the skills of dreaming, receiving a dream from the Lord, dreaming big, letting the right people know the dream, communicating the dream, and inspiring people with the dream, and motivating people to share the dream. But you cannot do any of this without the dream.
If someone cannot create a vision for the future in the people – they are not a leader. That is stark, but true. This is the essential trait of leaders and we must take the time to dream. If all we deal with is what we can see and what is right now visible and in front of us, we are managing not leading, and we are not operating in faith.
Many churches, many ministries, are sadly over-managed and under-led. Ask the average person in the church or ministry what the dream is – and they will not have a clue. They do not have a bigger picture for a better future and that is a reflection on leadership.
I think everyone who becomes a pastor should be given a microscope and a telescope. The microscope to see things close up as they really are, but the telescope to see things that are far away! We need to have a telescope heart – things that are far away are coming, let's get ready.
At our church in Dagenham, we have developed – because we are a kind and loving people – a habit of singing happy birthday to people and giving them cake on their birthday. The problem is now on average we have 3-4 birthdays every single week. And the church is growing. Time for a change, I have to get my telescope out and say – this won't work for a church of 1000, time to shift gears. That's a small example, but it is the kind of thing I am consistently doing – seeing the future, preparing people for leadership, preparing people for a bigger role. Because I am a leader. And because I set aside, in the middle of my business – and I am busier than most pastors – time to spend with the Lord, to communicate with Him, to listen to Him. I take the time to dream.
What to me is the sign of a good leader is an obsession with the future. We need to be dreaming of a better future – we need that divine restlessness in our hearts – how can it be better? What can change for the better… when you spend time with the Lord, you cannot help living like this.
The number one complaint people have about their last church when they come to Tree of Life is not about doctrine or grace, or anything on those lines, no they tell me "our church had no vision for the future, and people just drift away". We cannot just focus on today, we must dream of a better tomorrow and take the time to do that.
I am writing this blog post in Albania, and it has been such a joy to be with Shayne Holesgrove – he has a huge dream for a better tomorrow, and it is bearing fruit. He takes the time to find out what God wants for his churches, ministries and groups. It is enjoyable to talk to him because this is the level of the communication.
Listen, I love doing things, I identify with Martha. I love checking things off on a list, I love getting things done, I love doing. I have to discipline myself to sit at His feet and hear from His heart what He wants me to do on planet earth. I have to be still and know that He is God, and so do you. Your primary responsibility as a Christian leader is to hear God speak. What does God want to do with you, through you and in you to make a better future? Are you Noah or Nehemiah? Are you Moses or Joshua? Are you Paul or Timothy today?
Do what needs to be done today, of course. But not at the expense of what needs to be done for tomorrow. Put dream time into your schedule, turn your phone onto airplane mode and dream big. Sit at His feet and watch things change for the better.